So it's been an insane few months since my last post.
I spent another week and a bit in Spain leading a different localisation project. I expected to come back and basically despair until I found a job or was homeless. It worked out a bit differently.
I came back to England, lost a couple of weeks sending out CVs and having terrible phone interviews.
Late July I managed to get 3 interviews in consecutive days, all of them in London. Since I bought a rail pass and was going to be in London anyway I decided to volunteer for a geeky convention in London called Nine Worlds (which you should attend if you can, it's a wonderfully inclusive and loving space). I'd had my eye on it for a while, but I had no way to pay for it, hence, the volunteering.
Luckily someone dropped out just before I emailed (the night before the first day) and I basically got told to get on a train and show up at the hotel (not that forceful, they were lovely, but like I said, I already had a railpass and was rather bored).
Standing on the train station changing trains at Reading the usual feeling of anxiety started to settle in. "What am I doing?", "I've never volunteered before!", "I'll freak out in the middle of the con and it'll be terrible!", "Who the hell will I be sharing a room with?!". Some of the fears were based in reality, most of them were my brain being stupid. So I listened to my music and plowed through. After two trains, a long wait at a station with a creepy guard, and a bus ride, I finally made it to the hotel.
I thought I was tired at that point, but boy was I wrong.
I was on my feet for a good chunk of the next 4 days. Running around, interacting with more people than usual, trying to be useful.
Also, Thursday and Friday I spent my break running into London for interviews, then running back for the other half of my shift. I left Sunday night (a bit earlier than I wanted really) because I was supposed to have ANOTHER interview Monday.
But I loved all of it! And I'll be volunteering next year if I can swing it… although it lands a couple weeks before my wedding, so we'll see.
Thankfully all the running around paid off. I got 2 job offers, and ended up going back to the same company that laid me off, but in the London office now. It's odd but I'm enjoying the slightly different responsibilities and the very nice new office space.
With the new job in London proper we had to move. We were on 3 hours roundtrip commute and paying a bomb on trains.
We've cut that down by a whole hour now, and the new flat is nice and roomy, although I worry the carpet will be destroyed by our little huntress.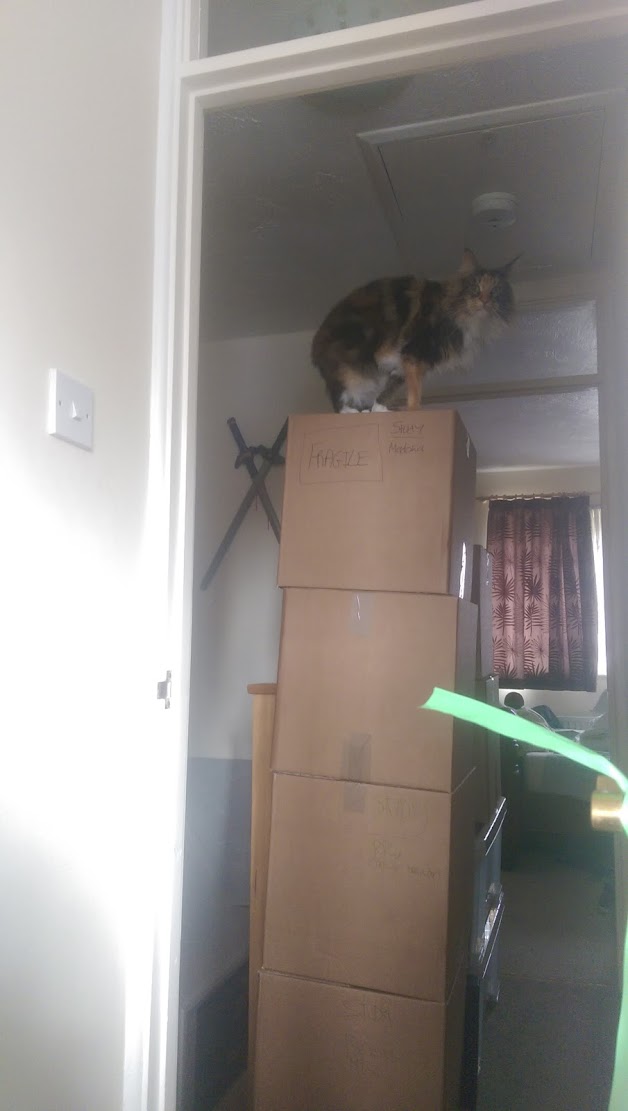 And that brings us to now!
Still unpacking, things are a mess, our first full weekend in London was the weekend of the NFL Wembley Series and we were most definitely there.
NFL @ Wembley! #JetsVsDolphins snazzy new hat! pic.twitter.com/Cwy8C8ypvc

— Carlos Martin (@butterdroid) October 4, 2015

(That is such an embarrassing face!)
Plus other adult stuff like changing bank address and buying bed sheets (and maybe and Xbox One).
I will have to complete the unpacking soon, though. NaNo Approaches!
This year I will attempt to move out of my comfort zone just slightly and not write fantasy. I will be writing a bit of literary fiction, which is in no small part influence by the fact that I just re-read Rainbow Rowell's Fangirl, shortly followed by Attachments. There is some magic and bluntness there that feels so real, so touching. I don't plan on mimicking the style, but I want to see what it's like when I don't write magic and monsters. What happens when I'm constrained by a closer version of reality. It's still obviously going to be a love story, writing anything else seems pointless.
I will try to update the blog throughout NaNo, there is a badge for updating the wordcount every day of the month…and I love badges.
Be awesome to each other!
-C