To be honest, I'm not sure I can do better than this.
And we're done! #UKGamesExpo We played, we bought, we fawned over stuff, and we met cool people. I think we'll come back. Now: Glasgow!

— Carlos Martin (@butterdroid) June 4, 2017

The weekend was a blur, and we loved every bit of it.
I think next year I'd want to be a bit more organised, and I would like to plan meeting some of the writers and podcasters better.
The highlight of the weekend was definitely the Honey Heist game run by Grant Howitt, but The Dark Room and meeting the SUSD guys was great.
Now we're back and we've got new games, I'll prob talk about those later. We recorded another podcast, I still haven't edited any of them (Oops). And I think I'm finally gonna get to run my Valdemar campaign… I got excited, I commissioned some art, and I stuck it to my campaign folder: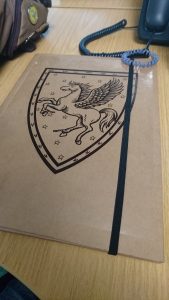 This is gonna be so good, guys!